Apex PMP
Apex PMP (Polymixin B Sulphate, Miconazole Nitrate & Prednisolone Acetate) is suitable for the treatment of ear infections (Otitis externa), skin infections caused by fungi, yeasts, Gram negative and Gram positive bacteria in cats and dogs.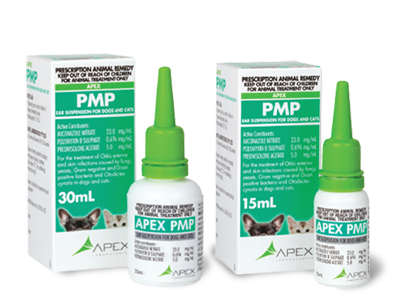 Apex PMP Ear Suspension 15mL and 30mL
---
Presentation
White oil based suspension for aural administration.
---
Active Ingredients
Polymyxin B Sulphate
An antibiotic with bactericidal activity against Gram negative bacteria.
---
Miconazole Nitrate
A broad spectrum antifungal with good bactericidal activity against Gram positive bacteria.
---
Prednisolone Acetate
An anti-inflammatory agent. This addition of a corticosteroid provides relief from discomfort and discourages self trauma.
---
Precautions
DO NOT USE
when there is a perforated ear drum.
---
Dosage
Ear infections
Instil 3-5 drops into the ear twice daily.
---
Ear infection caused by ear mites
Instil 5 drops into the ear twice daily for 2 weeks.
---
Skin infections
Apply to the affected area & continue treatment without interruption for several days after clinical signs have resolved.
---
Pack


Diseases Treated

Download Vet-only Materials