Isaderm®
Isaderm® is used for the topical treatment of surface pyoderma in the dogs such as acute moist dermatitis, acral lick and skin fold dermatitis.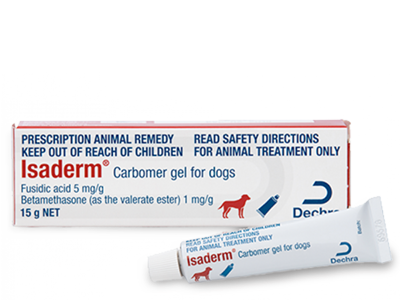 Description
Isaderm® contains Fusidic acid, which is highly effective against Staphylococcus pseudintermedius. S. pseudintermedius is isolated in up to 90% of cases of pyoderma in dogs.2 Fusidic acid also remains active in the presence of pus.

Isaderm® was previously known as Fuciderm.

---
Diagnosis and monitoring
Treatment should continue for 48 hours after the lesion has resolved. The treatment period should not exceed 7 days. If there is no response within three days, or the condition deteriorates, the diagnosis should be re-evaluated.

---
Usage
Isaderm® Gel can be applied directly and stays on the lesion.

Diseases Treated
Dermatology: Skin
Skin or dermatology cases are common in dogs and cats and make up a significant amount of the cases seen by vets.
Read more.

Download Vet-only Material