TMPS Powder
For the treatment of bacterial infections in horses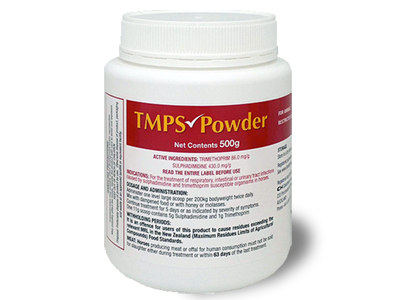 Active Ingredient
White powder containing Sulphadimidine 430 mg/g and Trimethoprim 86 mg/g.
---
Actions
Sulphadimidine and Trimethoprim act synergistically to sequentially block the microbial folate synthetic pathways at two points and are bactericidal against a wide range of Gram-negative and Gram-positive bacteria. The combination acts synergistically to provide a level of activity that is many times greater than is achieved when either agent is used on its own.
---
Indications
For the treatment of respiratory, intestinal or urinary tract infections caused by sulphadimidine and trimethoprim susceptible organisms in horses.
---
Dosage and Administration
Administer one large level scoop per 200 kg bodyweight (2.5 scoops per 500 kg) twice daily. Mix with dampened food or with honey or molasses. Continue treatment for 5 days or as indicated by severity of symptoms. One scoop contains 5 grams Sulphadimidine and 1 gram Trimethoprim. Each 500 gram pot provides approximately 18 doses which is sufficient to treat a 500 kg horse for 9 days.
---
Pack
Presented in a plastic screw-top pot containing 500 grams of TMPS Powder and plastic measuring scoop.

Treatment

Download Vet-only Material